ePOSTER
Abstract Title
What were students overall experiences of the Widening Participation in Medicine (Newham Doc Route) Scheme from 2008 2013?
Theme
9JJ Admission to Medicine and Postgraduate Training Programmes
INSTITUTION
Barts and The London School of Medicine and Dentistry Queen Mary University

Background
---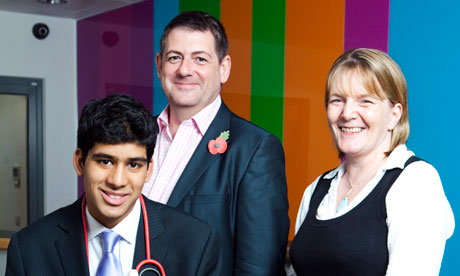 ---
Widening Participation:
Students from lower socio-economic background remain under-represented in medical schools in the UK. Students from lower social background (classes IV and V) are less likely to apply to medicine compared to those of higher social background (Classes I and II) [1] [2] [3]

Widening participation is an umbrella term that covers the various facets of participation in Higher Education (HE), which includes fair access and social mobility. The Higher Education Funding Council for England (HEFCE) suggests all students with the potential to benefit from successful participation in HE should have the opportunity to do so. [2]

WP aims to address the whole 'life-cycle' of a student from pre-entry, admission, study support, and successful completion at undergraduate level to employment or progression to further education. [2]
---
Newham Doc Route Scheme, now known as Barts Health Doc Route Scheme is a one year pre-medical Widening Participation (WP) programme run in partnership with Barts and the London School of Medicine and Dentistry. [4] [5] [6] [7] [8]
The aim of this WP programme is to widen access to A-level students whose social or academic background may have prevented them from accessing medical school through the normal route.
Candidates with a minimum of CCC grades at A-levels are considered compared to the usual candidates with AAA grades at A-levels. [4] [5] [6] [7] [8]
Summary of Work
This study uses qualitative research method to analyse the quality of the widening participation Newham Doc programme. 10 students participated
Inclusion criteria sampling method was used based on students who:
All completed the Newham Doc Scheme between years 2009 to 2013




All attended Barts and the London School of Medicine and Dentistry




Some are not currently at Barts and the London SMD but completed to Newham Doc Scheme
There was ethics approval. Data was audio recorded on the one-to-one semi-structured interviews and focus group discussions and written up.
Conclusion
The scheme provided students who otherwise will not have the opportunity to study medicine and provided vast learning opportunities. Students did identify that the delivery of the programme maybe slightly flawed, as many were unaware of the purpose of the scheme therefore leading to students overlooking potential learning opportunities that only become apparent when in clinical years of their medical training.
Although this is a case study of one WP scheme, the findings may resonate elsewhere and help improve approaches to WP. BNS-A is a former participant of this WP scheme therefore this study required particular attention to reflexivity.
Take-home Messages
Gathering former participants' perceptions, particularly through long-term follow-up, deepens understanding of such educational programmes.
Since the scheme is quite specific and very different to other widening participation schemes, data cannot be generalised to other WP schemes, it can be adopted as part of a WP curriculum.